Unique Interactive tour in Vienna
Explore Vienna 's highlights with virtual reality on a Interactive tour
The Interactive Bus Tour in Vienna
FutureBus Tours combines 3 elements- a classic bus tour, an audio guide and a virtual reality experience.
In our comfortable purple bus you will be able to look through the windows and enjoy many of Vienna's magnificent buildings, churches and monuments. The places you will see are the most popular tourist attractions of the Austrian capital.  You will see them all in one hour. Instead of walking around in the summer's heat or winter's rain, you will enjoy them from our comfortable, air conditioned bus.
Throughout the tour you will be accompanied by an audio guide. Unlike other bus tours, the stories you will hear are connected to one another in a complete journey from start to finish. You won't hear boring stories about the monuments. Instead, you will learn more about the development of the city through the centuries, about the people who lived, worked and expanded Vienna and the battles they had to fight to defend it from countless enemies. To complete the experience, you will witness the events through our virtual reality glasses in four stations during this Interactive tour.
Route of our Interactive tour
The tour will take you through 3 different districts and many important streets. We will begin at Albertinaplatz, near the very heart of Vienna's inner city. Afterwards, we will drive along the famous Ring road where many of Vienna's most iconic buildings are located. The bus tour will be continued by driving near important places such as Museumsquartier, Naschmarkt and Schwarzenbergplatz before returning to the Opera building and to our starting point.

Where does the bus tour begin?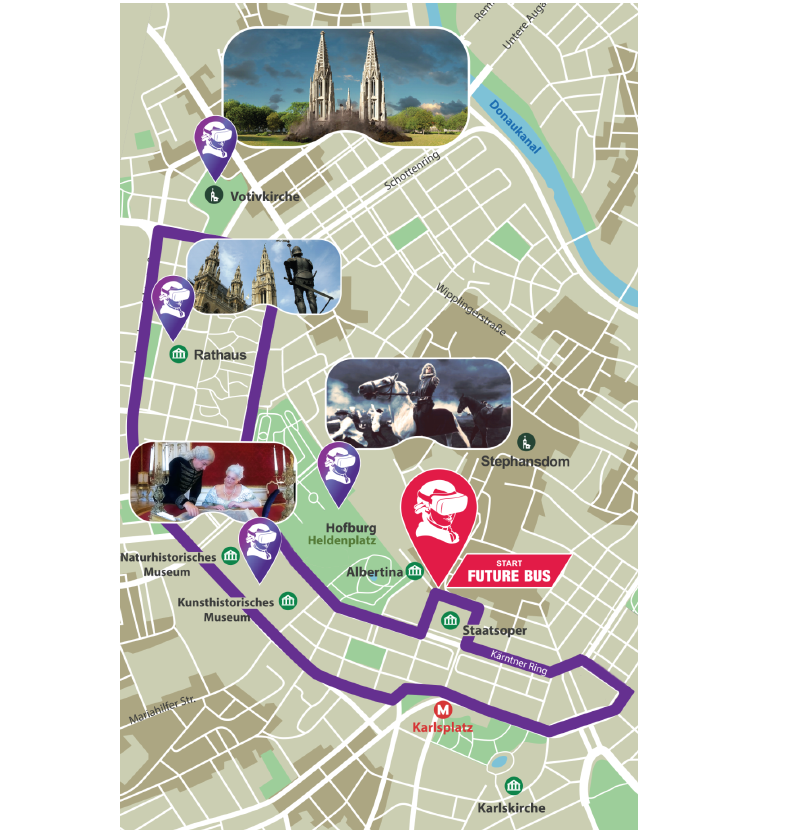 Virtual Reality Experience
We bet you are curious as to what you are going to see in this unique virtual reality experience! Well, we aren't going to reveal the stories but we can tell you that what you are about to witness is acted by real actors and reenactors.
One thing you should keep in mind- the virtual reality experience is 360 degrees which means you should not only look forward or to your sides but also backwards. Things are going to happen all around you and so look everywhere to make sure you capture and experience it all.
To enjoy the virtual reality experience you will wear our state of the art glasses. At the beginning of the tour you will receive audio instructions as to how to wear them. You will be told to look forward at the very beginning so that the glasses will be calibrated with your surroundings. We made sure to create the experience so that you won't get dizzy after each virtual reality stop, so in case that was a concern, don't worry, we thought exactly about you.










Never before. Audioguides in 10 languages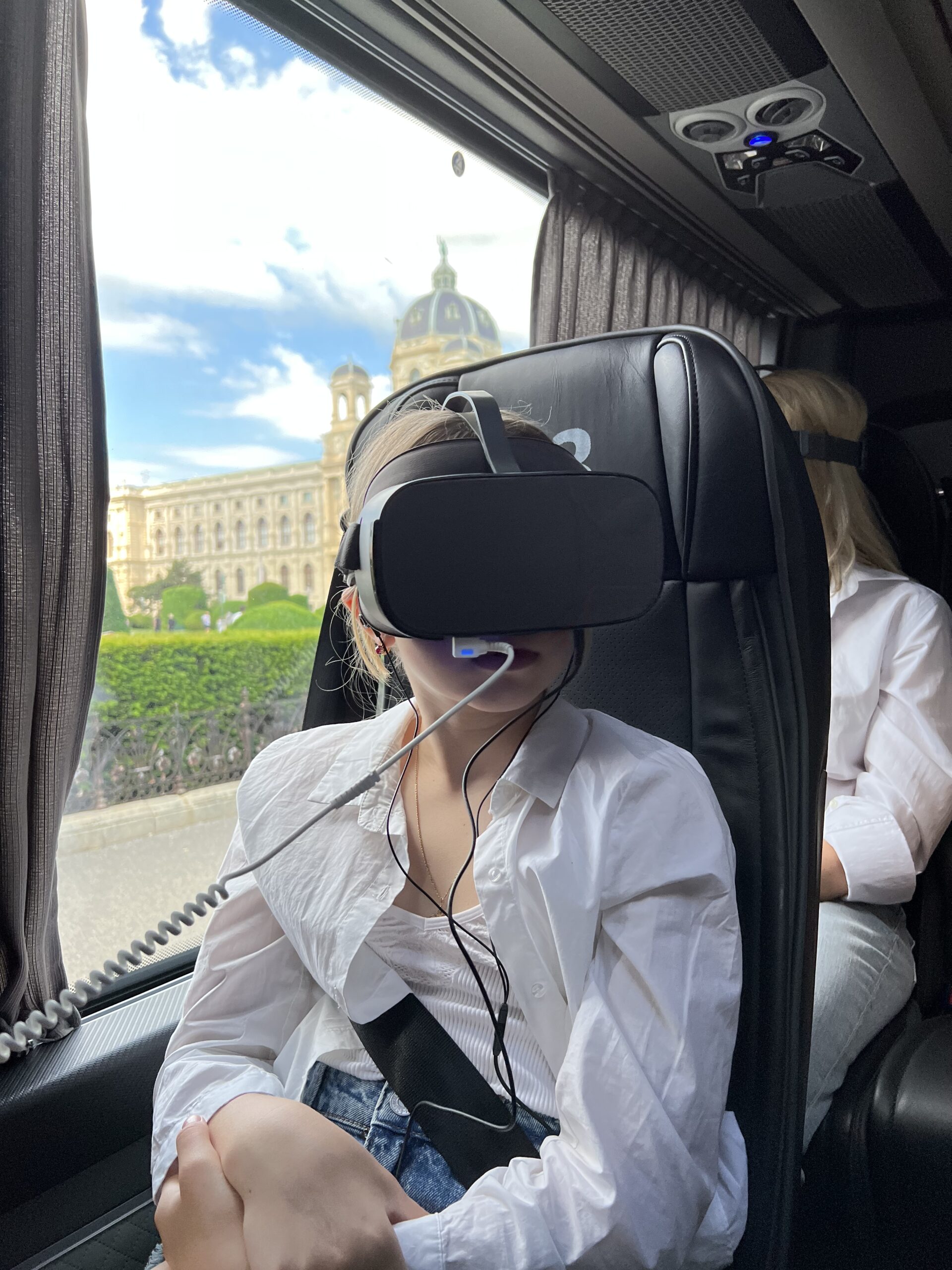 Highlights of the VR Bus Tour in Vienna
There are many highlights included in our one hour tour:
Heroes square and Hofburg Palace
The art history and natural history museums
See Vienna's most important highlights in 1 hour!
Experience Vienna's past through virtual reality!
Explore Vienna's history in an unforgettable way!